Uganda Child Cancer Foundation
The Uganda child cancer foundation is a brain child of the Uganda Cancer Institute established with a mission of creating a society free of childhood cancer by contributing towards effective childhood cancer control in Uganda through patient support, awareness creation, advocacy, research and mentorship. Uganda Child Cancer Foundation (UCCF) is a Non-Government organization that was registered in 2006 with a Registration number of No. S.5914/6566
As an organization, we provide patient support to children suffering from cancer at the Uganda Cancer Institute, support caretakers and families of children suffering from cancer. We are involved in cancer education and awareness, advocacy and research.
Uganda Child Cancer Foundation (UCCF) primary goal is to provide pyscho-social support to children who are suffering from cancer. Part of this support includes, play therapy, reading and writing, counselling, providing unmet basic transport to and from Uganda Cancer institute.
We have partnered with several local businesses and craftspeople to produce a variety of gift items, including T-shirts, jewellery, sandals and other decorative items. All proceeds go to the UCCF to support our programs and initiatives.
Donations to sponsor our patients support activities like follow ups, child parties, Smiling Toy at the center, grants to expand 3C Clubs to mobilize more children and young people for cancer prevention activities
We offer two types of memberships: a general membership, for all individuals, organizations or corporations interested in prevention and control of childhood cancer and would like to be part of our efforts, and a 3C membership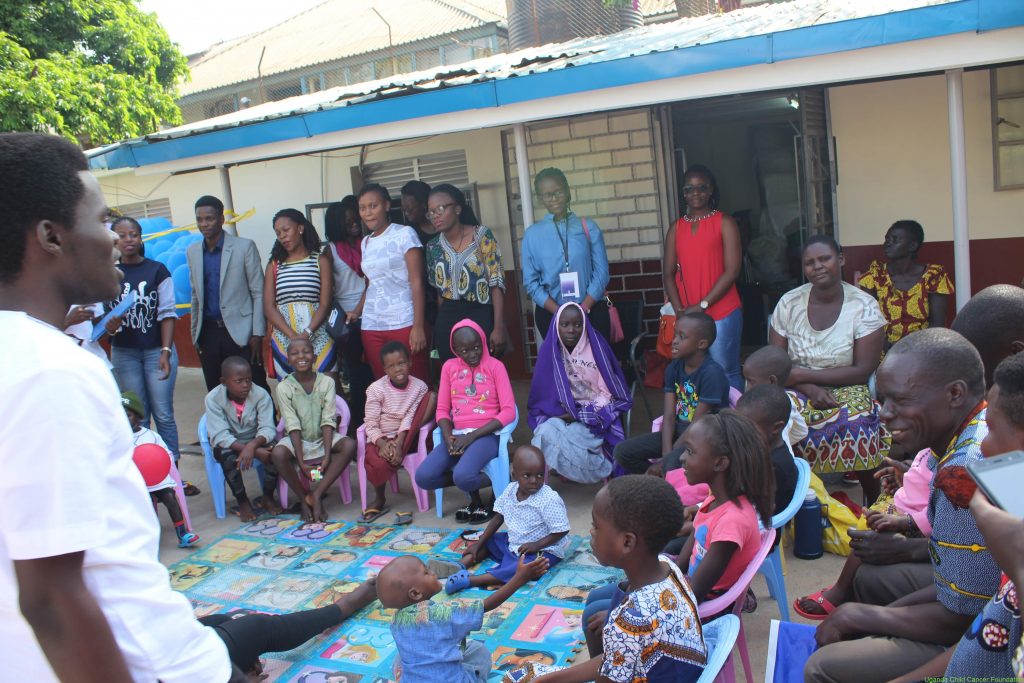 We were formed with the mandate of providing psychosocial support to children suffering from Cancer. Annually, UCCF supports over 1000 children. The psychosocial support has activities like playtherapy and shading which help the children to feel safe and connected to their colleagues. Patient support also has activities like reading and writing which are aimed at ensuring that children don't get left behind by their colleagues who are still in school. 
Part of patient support is the counselling sessions that look to engage with the children so that they don't get depressed and suffer from mental health diseases. This service is also provided to the parents as they shoulder the bigger percentage of having to take care of the children as they receive treatment but also the psychological torture of having to think of where to get funds for the basic needs and drugs for their children.
The program as well intervenes for the children whose families are unable to meet some of the basic needs, buy the supportive drugs and find transport to and from for treatment care and management. Many children coming from families that are not well to do and as a result, they find it had to meet the bare requirement and it is as a result that UCCF comes to ensure that all children are able to receive the necessary support.
As a civil society group, we have a responsibility to ensure that we carryout education and awareness and as such, we started the 3C (Children Caring about Cancer) Program aimed at educating and empowering young people about cancer with particular interest to cancers in children.
3C is a young people's program that was created in 2010 and the first project was run in 2011. St. Mary's College Kisubi, Kings College Budo, Mt. St. Mary's College and Gayaza High School were the first schools to pilot the 3C program.
The Mission of the program is to educate young people and empower them enough to be able to educate and sensitize their communities about cancer and other related Non-Communicable Diseases.
The UCCF Advocacy strategy focuses on demanding for change in policy and interventions related to cancer and childhood cancer in particular. To that end UCCF will work through and with different networks in order to magnify the voice to cause change. UCCF will also strategically mobilize young people to raise issues concerning childhood cancer to relevant authorities and decision makers demanding for improved prioritization, resource allocation and service delivery in terms of treatment, care and management of childhood cancers in Uganda.
This program area is twofold, on other hand it focuses on mentoring childhood cancer survivors while on the hand it embraces young people who care about cancer and require the support as they develop through life.
In line with the programs focus on childhood cancer survivors, Mentorship is provided as an intervention dedicated to help them learn and develop new lifelong coping skills/knowledge. Through this, the survivors would be able to develop and/or enhance a specific set of core skills which would give them an edge in realizing their potential.
UCCF comes to ensure that all children are able to receive the necessary support
Our programs as well intervenes for the children whose families are unable to meet some of the basic needs, buy the supportive drugs and find transport to and from for treatment care and management. Many children coming from families that are not well to do and as a result, they find it had to meet the bare requirement and it is as a result that UCCF comes to ensure that all children are able to receive the necessary support